Our end-of-the-week picks for May 20-22
We've gathered up some live virtual events and other fun things to do that are going on this weekend. You can also read the latest info regarding what's open and reopening in the District, as well as things to do during the week and throughout the month.

Looking for a local perspective delivered directly to your inbox every two weeks? Sign up for our "DC on the Go-Go" Local Newsletter to stay in the know.
Friday
Kara Walker's The Katastwóf Karavan
In honor of the incredible Afro-Atlantic Histories exhibit, The National Gallery of Art's Sculpture Garden serves as the site of a temporary installation featuring a steam calliope, a musical instrument used on steamboats and in carnivals during the 19th century. Artist Kara Walker made the sculpture for the Prospect.4 Triennial in New Orleans at Algiers Point, a site in the city along the Mississippi River that once served as a holding area for enslaved Africans. Featuring Walker's signature silhouettes made from cut steel and situated in a parade wagon, the steam-whistle organ will play songs of Black resistance and celebration. Musician Jason Moran will perform on the calliope live on May 14 and 15.
10 a.m. – 5 p.m. daily |  Free Admission
National Gallery of Art – Sculpture Garden, Constitution Avenue & 7th Street NW, Washington, DC 20408
 
PIXELBLOOM
An ARTECHOUSE original production, PIXELBLOOM pushes the boundaries of immersive digital art, inviting visitors to jump into the metaverse and glide through a virtual world of cherry blossoms brought to life only at ARTECHOUSE. The installation merges the digital and physical worlds in a one-of-a-kind dynamic experience inspired by nature's beauty. The main 22-minute audiovisual installation in the Immersion Gallery employs 18-channel, 270° floor-to-wall surround projection array and a 22.5-channel spatialized audio system to breathe a new life into cherry blossoms in peak bloom through an explosion of vibrant colors and textures.
Monday – Thursday: 1-9 p.m. |  Friday – Sunday: 10 a.m. – 10 p.m. |  Tickets
Safety guidelines
ARTECHOUSE, 1238 Maryland Avenue SW, Washington, DC 20024
There's Always the Hudson
T and Lola have a mission. After meeting in a support group for sexual abuse survivors years ago, the two made a pact to take out revenge on those who have wronged them. Woolly Mammoth Theatre Company presents this riveting production written by Paola Lázaro, a tale of two damaged souls ready to confront their trauma and deliver some well-deserved justice. Note that There's Always the Hudson contains discussions and depictions of sexual abuse and assault, profanity and drug use.
Tickets
Woolly Mammoth Theatre Company, 641 D Street NW, Washington, DC 20004
 
Saturday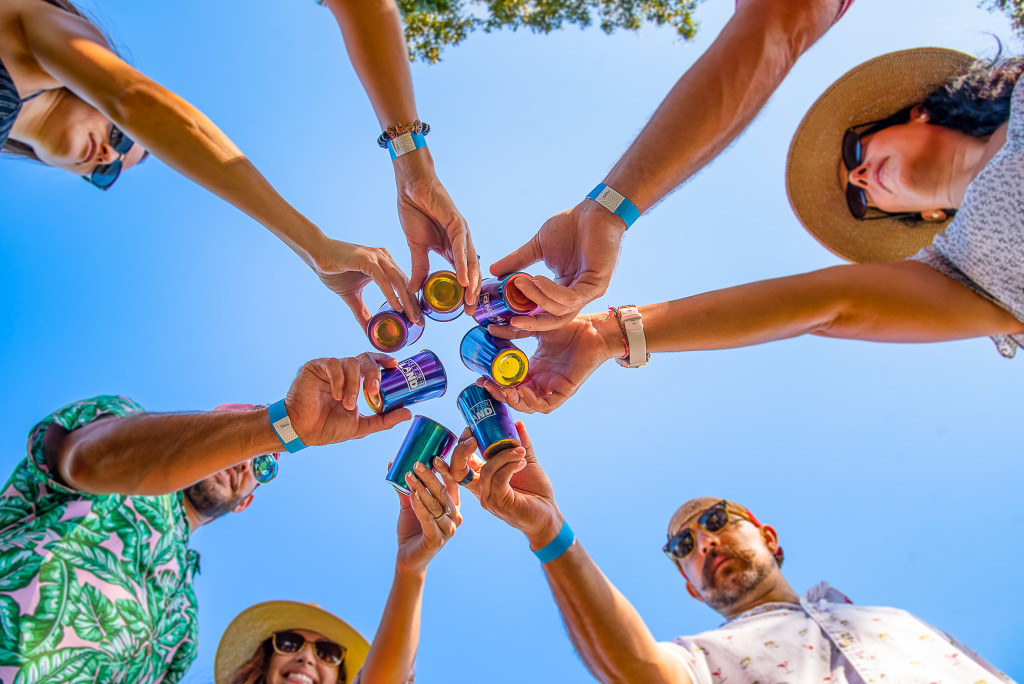 Seltzerland
Hook Hall will turn into a hard seltzer paradise as part of Seltzerland. Guests will be able to enjoy this one-of-a-kind immersive experience at one of DC's most popular gathering places, spending the afternoon tasting more than 100 unique hard seltzers, indulging in delicious munchies, receiving tons of Seltzer swag and capturing Insta-worthy moments. 
11 a.m. – 3 p.m. |  Tickets
Hook Hall, 3400 Georgia Avenue NW, Washington, DC 20010
 
Washington, DC Dragon Boat Festival
The Dragon Boat Festival returns in-person after a two-year hiatus. Expect to spectate a jaw-dropping race featuring amazing dragon boats and enjoy cultural activities (including athletic demonstrations, eye-dotting ceremonies, lion dances and more) throughout the day at Thompson Boat Center. Stay tuned to the festival's website for scheduling updates.
More Info
Thompson Boat Center, 2900 Virginia Avenue NW, Washington, DC 20037
Hirshhorn Ball 2022
Saunter to this soiree in the Hirshhorn's gorgeous outdoor Sculpture Garden. Prepare for an evening filled with pop art and boundary-pushing creatives in fashion and artistic expression. Expect live performances, art activations, an open bar with cocktails and bites, an outdoor dancefloor and a show from musician and composer Dan Deacon, known for transforming concerts into fully communal experiences. There will also be a fashion contest, so come decked out in your zaniest pop-art creation.
6:30-10 p.m. |  More Info
Hirshhorn Museum and Sculpture Garden, Independence Avenue and 7th Street NW, Washington, DC 20560
 
Our Town
Thornton Wilder's Pulitzer Prize-winning play will leave you feeling more connected to the world around you. Sidney Harman Hall becomes turn-of-the-century Grover's Corners, where everyday life reveals universal truths about community, love, life and death. Our Town is both deeply allegorical and endlessly captivating, with an ensemble cast filled by celebrated local performers.
Tickets
Sidney Harman Hall, 610 F Street NW, Washington, DC 20004
Sunday
Once Upon a Roof: Vanished Korean Architecture
Clay roof tiles, known as chimi, once adorned ancient wood frame buildings in Korea, buildings that are now long gone. However, many of the tiles have survived more than a thousand years, with three chimi unearthed from two Buddhist temples and a palace complex that dates back to the Three Kingdoms and Unified Silla periods set to be on display in this upcoming exhibition at the National Museum of Asian Art. You will learn hidden stories of the ancient architecture of Korea, with many of the works on display outside of that country for the first time.
Wednesday – Monday, 10 a.m. – 5:30 p.m. |  Free Admission
National Museum of Asian Art, 1050 Independence Avenue SW, Washington, DC 20560
Show Way The Musical
Kennedy Center Education Artist-in-Residence Jacqueline Woodson's Newbery-winning tale of resilience becomes a world premiere stage adaptation with new music by Tyrone L. Robinson. Based on Woodson's own family, the moving and lyrical tale pays tribute to women whose strength and knowledge illuminate their daughters' lives. Soonie's great grandmother was only seven years old when she was sold to a plantation and began stitching Show Way, a quilt filled with secret meanings to help enslaved people find freedom.
Tickets
The John F. Kennedy Center for the Performing Arts, 2700 F Street NW, Washington, DC 20566
 
One with Eternity: Yayoi Kusama in the Hirshhorn Collection
The Hirshhorn has been collecting the prolific work of Yayoi Kusama since 1996. The museum's 2017 survey of her work traveled to five North American art museums, introducing Kusama's spellbinding visions to record audiences. Now, the Hirshhorn displays five of Kusama's works from the museum's permanent collection, including two of the artist's transcendent Infinity Mirror Rooms. One with Eternity: Yayoi Kusama in the Hirshhorn Collection is a tribute to the life and practice of the visionary artist and makes for an awesome Mother's Day activity. Free timed passes are required.
Thursday - Sunday, 10 a.m. - 5:30 p.m. |  Free admission |  Safety guidelines
Hirshhorn Museum & Sculpture Garden, Independence Avenue & 7th Street NW, Washington, DC 20560
 
Carmen
The Washington National Opera offers up this bold production featuring the character of Carmen, an uninhibited, strong-willed woman who lives life on her own terms. She is desired by everyone but wants only freedom. After she escapes trouble by seducing Don José, she sets her eyes on the bullfighter Escamillo. But when Don José's jealousy finally catches up to her, Carmen's freedom will have dire consequences. This show marks the DC premiere production of the Georges Bizet classic.
Tickets
The John F. Kennedy Center for the Performing Arts, 2700 F Street NW, Washington, DC 20566
 
#MyDCcool Photo of the Week

Make sure to share your DC photos with us using #MyDCcool, and we may feature yours next month!
Do you know where you'll be dining pre- or post-event? From pop-up restaurants to Michelin-starred hot spots to laid-back food halls, our DC food guide is perfect for helping you plan a more memorable experience.
More About DC
---
You may also like..
5 THINGS TO DO AT AWESOME CON IN WASHINGTON, DC 
CELEBRATE THE LINCOLN MEMORIAL CENTENNIAL THIS MAY IN WASHINGTON, DC 
THE BEST CITY TO VISIT IN 2022 
PARTNER CONTENT