Bask in every aspect of the Native American experience at this free Smithsonian landmark.
What is the Smithsonian National Museum of the American Indian and where is it?
The National Museum of the American Indian (NMAI) is located on Independence Avenue SW on the National Mall. The museum boasts one of the world's most expansive collections of Native American objects, photographs, artifacts and media. The NMAI is dedicated to bringing Native voices to life throughout its contemplative exhibitions and colorful activities.
The easiest way to get there is via public transportation. If traveling by Metrorail, get off at the L'Enfant Plaza stop on the Blue, Orange, Silver, Green and Yellow lines and use the Maryland Avenue/Smithsonian Museums exit. If traveling by bus, take the DC Circulator's National Mall route or the 30, 32, 34 or 36 Metrobus lines.
What's inside the National Museum of the American Indian?
The NMAI provides its first "wow!" moment before you even walk in the door. The building (designed entirely by Native architects) is one of DC's most visually striking, with its curvilinear structure and limestone material designed to resemble rock formations affected by wind and water over thousands of years.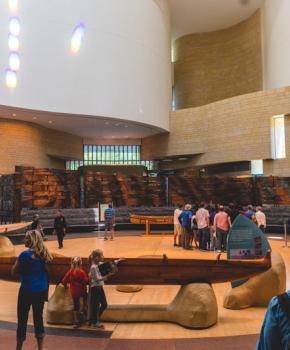 The museum's collections represent more than 12,000 years of history across 1,200-plus indigenous cultures from the Americas. These objects range from the aesthetic to the religious to the historical, helping to form a comprehensive catalogue of Native American culture.
Ongoing exhibitions at the museum include Return to a Native Place: Algonquian Peoples of the Chesapeake, which allows you to meet the Native peoples of the Chesapeake Bay through maps, ceremonial objects, photographs and interactive displays. These details can help you have a deeper understanding of just how prevalent Native Americans were, and are, to the areas surrounding DC.
The Great Inka Road: Engineering an Empire takes you back to earlier Andean cultures to explore the foundations of the Inka Road. You will learn of technologies that made the road possible, the politics and cosmology of the Inka world and the legacy that the Inka Empire left, from the colonial period to today. Of course, the museum regularly features new exhibits, so check to see what's on display before you go.

Your visit must include the National Native American Veterans Memorial, located on museum grounds. The touching tribute to Native heroes is beautifully designed, featuring an elevated stainless-steel circle balanced on a stone drum.